What Is Detox Water?
Detox water is water that has been infused with the flavors of fresh fruits, vegetables or herbs. Drinking water is one of the best things you can do for fast weight loss and better health, and it tastes delicious. It has no calories and fills your stomach so you don't feel as hungry.
Detox water is one of the most popular tools for weight loss to come around in a long time, and for great reasons. Not only can you drink detox water to lose weight, but it also tastes delicious and helps flush your body of toxins.
Detox water is any infused water recipe that helps flush your system of toxins and improves your health. Some detox water recipes have beneficial ingredients that help your body in some ways (like boost metabolism), but the main beneficial ingredient is water.
We can make detox water at home in lots of different ways, using any combination of fruits, vegetables, and herbs that we like.
Health benefits of detox water:
1) Weight loss
2) Improving mood
3) Increasing energy levels
4) Balancing the PH of the body
5) Toxin removal or detox
6) Boosting immune function
Top 6 Detox Water Recipes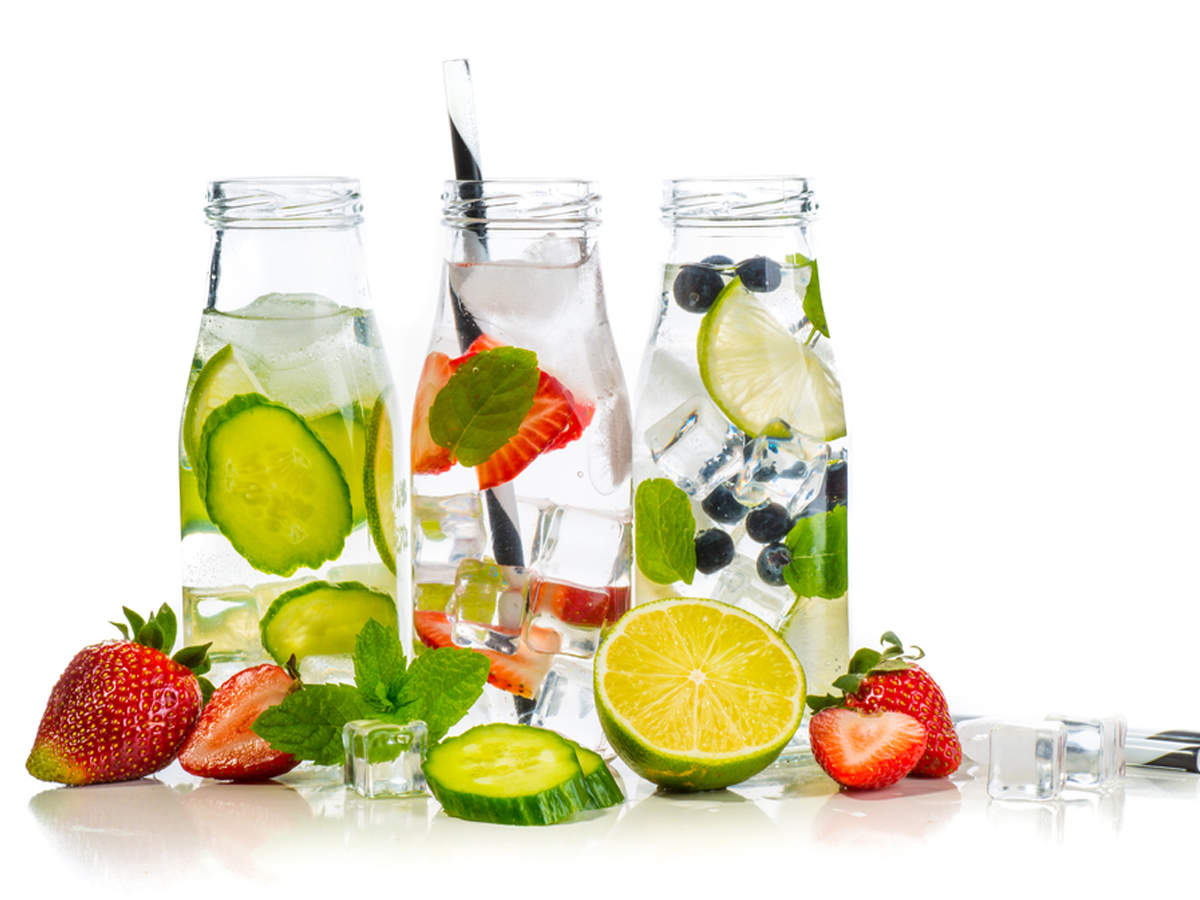 1) Cucumber, Lemon, and Basil Water
These cucumber lemon and basil mixture that not only tastes great but promotes detoxification, too. Here's how to make it
Ingredients:
1) 10 cucumber slices
2) 1 lemon slice, cut in half
3) 3 basil leaves
Add the ingredients to a glass or mason jar. Fill it with filtered water, and allow it to sit covered in the refrigerator for approximately 24 hours.
2) Detox ginger lemonade
Ginger lemonade mixture that not only tastes great but promotes detoxification, too. Here's how to make it
Ingredients:
1) 2 cups of filtered water
2) Juice from ½ lemon
3) 2-3 tablespoons of unfiltered apple cider vinegar
4) 2-3 tablespoons of raw honey
5)1-inch knob of garlic, sliced
Add the ingredients to a mason jar and shake. Sip throughout the day.
3) Pineapple Cucumber Water
Pineapples naturally raise your metabolism and all the vitamin C will help you ward off illness. Like the cucumber, pineapples are full of antioxidants, though we love them most for their sweet-tart flavor.
Cucumbers don't just help reduce puffy eyes at the spa, they help reduce tummy bloat and all over swelling. They are packed full of antioxidants and potassium making this the perfect drink to sip after and during a strenuous workout.
Ingredients:
1) 1 cup fresh pineapple
2) 1 medium cucumber, peeled and thinly sliced
3) 1/2 cup ice
Add the pineapple chunks, cucumber rings to a pitcher.
Top with ice, this holds down the fruits which help in a better infusion.
4) Detox Green Tea
Green tea is packed with antioxidants that help rid your body of free radicals, which are known to damage healthy cells.
The cucumber helps reduce bloat while the strawberries and lemons help increase metabolism with a healthy boost of vitamin C.
Just be sure to look for organic tea for maximum benefits and minimum residual pesticides.
Ingredients:
1) 1 green tea bag
2)1 slice lemon
3)1 tsp honey or stevia
4)2 strawberries, sliced
5) 2 slices cucumber
This refreshing drink has the added benefit of detoxifying green tea, it takes just 5 minutes to make and can be enjoyed any time of the day.
5) Strawberry, Raspberry, and Mint Water
Make this delicious flavored water by placing these ingredients in an 8 to 16-ounce glass
1) 3 strawberries, cut in half
2)5 raspberries
3)3 small or 2 regular sized mint leaves
Add filtered water to fill the rest of the glass. Cover it and allow it to sit in the fridge for 12 to 24 hours.
6) Blueberry and Orange Detox Water
This blueberry detox water recipe is as beautiful to look at as it is delicious to drink.
Ingredients:
1) 2 Mandarin Oranges, cut into wedges
2) Handful of blueberries
This fruit water recipe was made to simply make water taste more delicious, and we can get behind that. The blueberries are packed full of antioxidants and fiber making them a superfood that makes you healthier, more beautiful.
Conclusion
When it comes to water and weight loss, the two go hand in hand. Drinking water helps increase your metabolism, firm and clear your skin and promote a healthy digestive tract.
Check out more articles here.