What Causes Hair Loss?
Hair Loss is one of the most common problems worldwide, affecting one-third of the population. I think we all dream of having gorgeous thick hair. Do you get worried every day looking at all those strands of hair in your comb? It natural to lose more than 100 strands daily, but excessive hair loss is a problem you need to be worried about.
Your shiny and awesome looks require as much care and attention as your face. Some people's hair naturally strong by birth but some people struggle with the problem of hair fall and thinner hair. It is our hair that defines our beauty and we can't adjust with thin and dull hair. We all wish for strong, thick, and voluminous hair but sit back thinking that it is all a dream.
Well, it is really not! You can get that volume you wish for naturally. it is important to adopt some daily habits that can aid your hair against falling and help you increase your hair volume naturally.
It is normal when our hair falls a little amount every day. But if our hair falls out in a more significant amount than usual, it can cause distress and worry.
Some Possible Causes Of Hair Loss Are
1) Pregnancy
2) Birth control pills
3) Ringworm
4) Nutritional deficiencies
5) Medications
6) Traction alopecia
7) Anemia
8) Suddenly losing the excess amount of weight loss
9) Stress
10) Scalp infections
Loss of hair can be a major reason for the loss of self-confidence. And nowadays, hair fall or appearance of bald patches is not just limited to hereditary factors, increasing stress levels and improper nutrition are also contributing to the same.
so, if you are facing the same problem and you are looking solution for that let us see below remedies to increase your hair volume and reduce hair fall.
Let Us See The Below Remedies
1) Aloe vera
Aloe vera helps to increases hair volume, prevent hair loss, and improves hair texture. It provides essential nutrients and moisturizes the scalp.
Ingredients
Directions
Apply aloe vera to the scalp. After 1-hour rinse with shampoo to get shiny and beautiful hair.
2) Coconut Oil And Curry Leaves
The combination of these two will increase your hair volume and growth.
Ingredients
Directions
Dry 40-50 curry leaves. Heat 2 cups of coconut oil. Add the leaves to the oil when it is warm. Let it boil for 15-20 minutes. After it cools down, strain the leaves and store the oil in an airtight container.
Every night massage your hair with this mixture and wash it in the morning with a mild cleanser. Improvements will be seen in 2-3 months. check related articles here.
3) Cumin Seeds
Cumin seeds have antioxidant properties to improve hair texture. The silicon content helps in increasing the hair volume and its length.
Ingredients
Directions
Soak cumin seeds overnight. In the morning, apply it to your hair. Rinse it after 15-20 minutes with warm water.
4) Flax Seeds
Flax seeds are rich sources of omega-3 fatty acids. These fatty acids are essential for healthy hair growth.
Ingredients
Directions
soak 1 cup of flax seeds overnight. In the morning boil the seeds in water. Once it gets foaming jelly consistency remove it from the flame. After it cools down apply this gel over your hair.
5) Hibiscus
Hibiscus can help to boost your hair growth. It is rich in vitamin c, amino acids that nourish your hair, strengthen your roots. The flower stimulates hair regrowth from dormant follicles and bald patches.
Ingredients
Directions
Mix coconut/sesame oil in the paste of the hibiscus flower. Apply it on the hair. After 15 minutes, rinse with a mild shampoo.
6) Onions
Onion juice helps to improve hair growth. It increases hair density and improves hair texture.
Ingredients
Directions
Grate onions and extract its juice. Mix 1 tablespoon of honey and 1 tablespoon of yogurt with onion juice.
Apply this mask on the scalp. After 30 minutes of rinse using regular shampoo
Let Us See Few Techniques To Prevent Hair Loss
De-Stress
Stress is a major reason for hair fall. It leads to hair graying, decreased thickness, and hair loss.
Conditioning
A good hair conditioner revitalizes your hair, moisturizes it and makes it smooth and shiny. Apply conditioner after using shampoo.
Scalp massage with essential oils
Those who are facing hair loss for some time must massage the scalp with essential oil for a couple of minutes.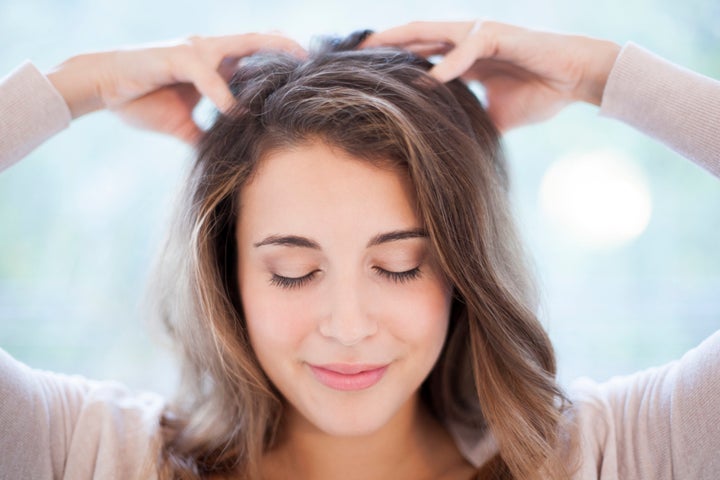 Avoid smoking
Smoking cigarettes reduces the amount of blood that flows to the scalp and this causes a reduction in hair growth.
Keep away from chemicals
Harsh chemicals and permanent hair color products could be damaging for hair health. When you are experiencing hair loss, it is advised not to color your hair.
Follow the above remedies to decrease your hair loss and increase your hair volume. check out more articles here.